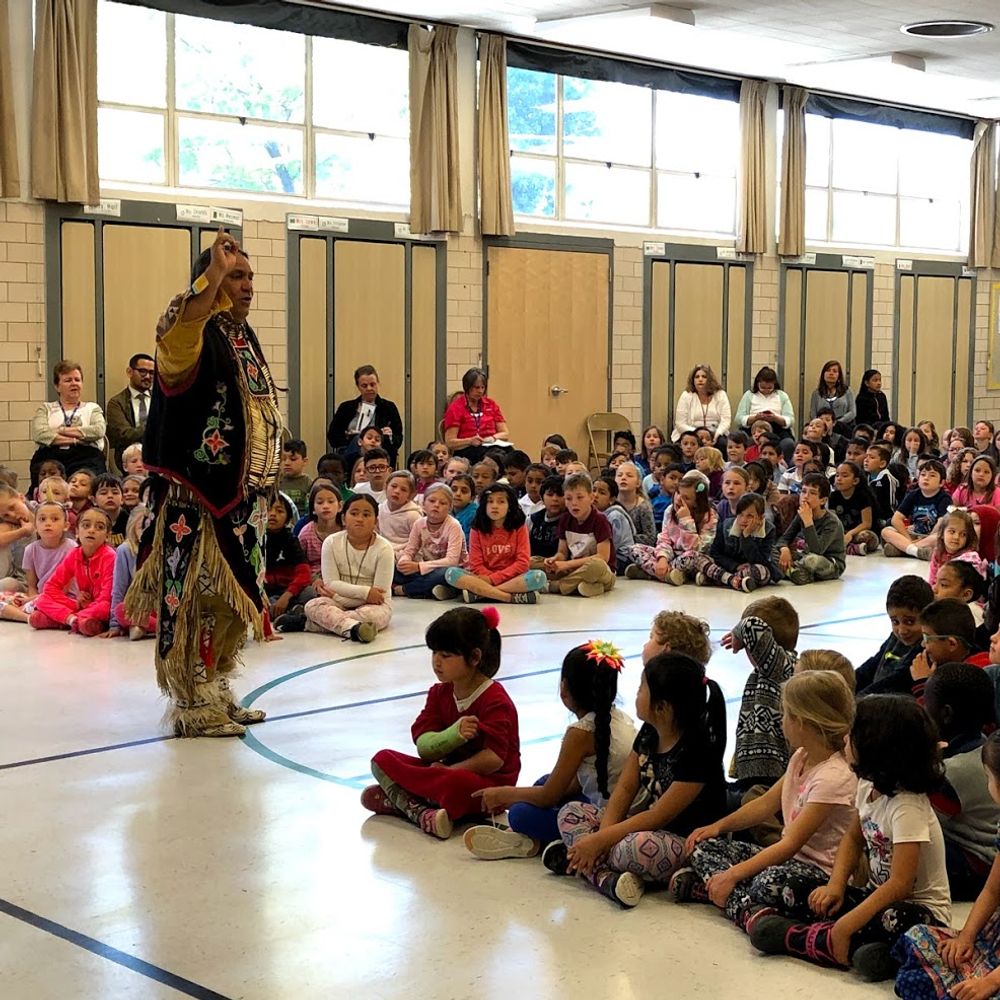 May, 2019
stories, dance,
Today Millcreek was lucky to have, Nino Reyos, Ute-Pueblo, to visit our students for an assembly. Mr. Reyos is a skilled dancer, flute player, and story teller. He captivated our audience and left them with a lot to ponder about respect for our selves and others- Ms. Vala.
......BREAKING NEWS......
Twoshields Production Co. are excited to announce that we will be representing Salt Lake City, Utah as a Cultural Performer at the @USAExpo2020 at the upcoming #Expo2020Dubai. Cultural Performers embody the geographic and cultural diversity of the United States and its territories, and will share the United States with #USAPavilion visitors.

Dubai. Expo 2020 runs October 1, 2021 - March 31, 2022
will be part of the Kurt Bestor Utah  125th Anniversary which will be aired on January 4, 2021 on all Utah major Television stations
Twoshields Dance Production   
 Click above for promotional video
Twoshields Production Company is a Native American Indian performers group in Salt Lake City, Utah that has participated in
Two Winter Olympic Opening Ceremonies, one World Expo Dubai 2020
and can provide American Indian dance, flute music, hoop dance, and workshops to meet your Organizational needs.
Nino Reyos- Ute / Pueblo, an enrolled member of the Pueblo Tribe,  is a Native American Music Award Nominee and a current Grammy Voting Member.  His flute music has been heard on KRCL radio in Salt Lake City, Rez Radio in Fort Duchesne, Utah an through out the Country.  He can provide solo school, flute, dance, and educational workshops along with organizing large groups of Native American dancers for a wide variety of events. Nino is an accomplished flute maker, and Veteran of the United States Military. He has spoke at numerous schools and provided Native American presentations to tens of thousands of students.  
Nino, A member of the Utah ARTS Council, and a former member of ARTS Inc.  ( Artistic Resource for Teachers and Students) has provided educational assemblies and workshops for elementary age groups.
 
Twoshields Production can also provide dancers and singers for large Corporate events, festivals, schools, and private parties.
Twoshields Production Co. has performed for:
Opening Ceremonies- 2002 Winter Olympics
Opening Ceremonies- 2007- DeafOlympics
Opening Ceremonies- 2018- Special Olympics
World Expo 2020- Dubai
Clients
University of Utah, Young Living Farms,  Northrup Grumnan, 4 Life, ARTS Education, Ute Indian Tribe, Utah Museum of Natural History, Utah Arts Council, Adobe,